Executive endorsements:
"Jeanne is a strategic thinker who is highly skilled at shaping content to further thought leadership even within crowded and complex fields. Her digital integration and content strategies resulted in significant growth in a very short period of time, exceeding our marketing communications goals and improving our organization's visibility. Jeanne brings deep knowledge of traditional, digital and social communication tools combined with sound judgment to create outstanding results." Jillian Darwish, President of Mayerson Academy
"Jeanne joined KnowledgeWorks and quickly built its digital strategy from the ground up, developing multiple digital properties and turning organizational leaders into digital thought leaders. She stays in front of the latest technology and has a strong sense of what will "take" and where our organization needs to engage. Jeanne also does an excellent job balancing strategy and execution. She has a real talent for managing large complex projects, delivering results quickly and with excellence. I have learned a tremendous amount from her deep experience and digital acumen." Meredith Meyer, Vice President of Strategic Planning and Chief of Staff at KnowledgeWorks Foundation
"Jeanne was a walking talking personification of IMC (integrated marketing communications) before it was cool." David Armon, President, Critical Mention.
"I have worked closely with Jeanne at FHPOGS and recommend her without hesitation. Among many other talents she possesses, I have noted the following in leadership attributes and skills that have contributed to this organization's success:
• A seasoned communications professional.
• Intelligent, collaborative, insightful.
• Unafraid of challenges.
• Tackles complex issues and subjects, breaks them down into actionable items.
• Superior communications skills.
• Dependable, meets deadlines with consistent high quality.
• Unwavering devotion to her work and causes.
• A persuasive writer."
Denise Gold, Founder, Forest Hills Parents of Gifted Support
Recognition: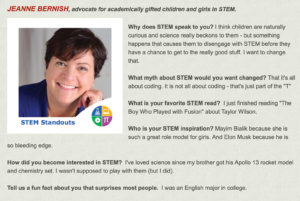 Named 2015 STEM Standout by Georgia-Pacific